Canoeing, Kayaking or Rafting
Whitefish, Montana is an adventurer's paradise. If you're wanting to ski, swim, fish, hike, canoe, kayak or bike, you've come to the right place. Montana is rightfully known as "big sky country", but there's a wealth of water sports here too. If you stay in Whitefish, you'll have convenient access to a wide range of options, including fun for families, foodies and photographers! Read on for some ideas for your next adventure to our area…
Lakes in the Whitefish, Montana Area
Whitefish is surrounded by gorgeous vistas and mountain ranges, so it makes sense that adventure seekers have a wide selection of pristine lakes to choose from for water sports. Did you drive to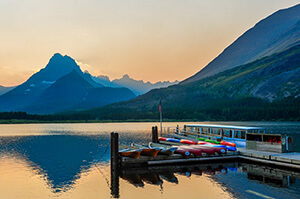 Montana or do you have access to a rental car? If so, you'll be able to easily access the following lakes within a day's time.
Tally Lake is situated in the Flathead National Forest. Canoe, paddleboard and kayak rentals are available at the campgrounds or you can take part in the fun by bringing your own boat and enjoying water skiing. The Tally Lake Campgrounds are approximately 18 miles from Whitefish.
Swan Lake is further away from the city, but if you're a water sports enthusiast, you'll want to check out this area. The lake is connected to nearby Flathead Lake via Swan River, which offers ample opportunities for tubing or even a section known as the "wild mile" with class IV+ whitewater rapids. Make sure to hire a guide or do your research ahead of time since you don't want to put yourself / your family in danger or get stuck in an area of the river that's really slow-moving.
Looking for a unique water sports experience? Flathead Lake is the biggest natural freshwater lake west of the Mississippi River and features a wide array of options for outdoor fun, including fishing, boating and even cruises on the lake. Some of the boat tours offer dinner on board, so plan ahead for a fun, relaxing evening out on the water. If you're feeling adventurous, stop off at or boat to Wild Horse Island, which offers more than 2000 acres of land for hiking and enjoying the smattering of wild horses that live there.
Don't forget about Glacier National Park, though! Lake McDonald is a gorgeous body of water in Glacier Park and runs alongside the famous Going-To-The-Sun Road for a portion of the way. If you're a photographer, you'll appreciate the lake's colorful rocky floor and clear waters. Or, take a swim and rent out some kayaks to explore the wilderness with your family.
Hungry Horse Reservoir offers another opportunity for water skiing, kayaking, canoeing and more! This reservoir doesn't have the crowds that others might, so enjoy a relaxing afternoon in the sun…and don't forget to eat some of the wild huckleberries on the way. The reservoir features multiple boat ramps to make your boating adventure a snap to begin.
If you're willing to drive a bit further, Seeley Lake or Lake Como are additional options for fishing, canoeing or other water sports. But what if you don't have a vehicle for transportation? No worries! Whitefish Lake is only four miles away from the city and accessible via a morning bike ride or long walk. There's truly something for everyone here in Montana!
About The Farmhouse Inn and Kitchen
Our bed and breakfast offers newly remodeled bedrooms featuring handmade organic spa products. Before heading to the great outdoors, enjoy our freshly-baked organic goods in our farm to table style Bakery and Café. We are located in Whitefish and are close to many local shops. If you're looking for beautiful scenic outdoor trails or clear, peaceful lakes, you've come to the right place. Montana is surrounded by beautiful lakes excellent for hikers, campers, fishermen and runners or even those who enjoy a quiet walk in the outdoors.
---